FREE PATTERN ALERT: 15+ Free Ornament Patterns
This is a great compilation of free sewing patterns to create ornaments for this Christmas season

Hello there,
Thank you for visiting On the Cutting Floor today. I am happy to present this compilation of Free Ornament Patterns. Enjoy!
FREE PATTERN ALERT: 15+ Free Ornament Patterns
If this is your first time on our blog, remember to check our FREE SEWING PATTERNS page.
On that page you will find our collection of free sewing patterns for women, kids, and men.
You can also visit our SEWING TUTORIALS and our SEWING REVIEWS.
We also have an ETSY STORE, where you will find high quality fabrics and unique and modern sewing patterns for women.
PLEASE, CLICK ON THE IMAGES BELOW TO BE DIRECTED TO THE ORIGINAL POST.
FREE PATTERN ALERT: 15+ Free Ornament Patterns
MISTLETOE:
a beautiful and simple mistletoe sewing pattern and tutorial to create a great decoration this holiday
BOBA FETT ORNAMENT
Something cool to inspire your loved ones!  Download this easy sewing pattern here
DIY STARS
One easy project to do with your kids or for beginner sewing crafters!
FELT UNICORN ORNAMENT
For all the Unicorn lover communities out there!
CHRISTMAS TREE BAUBLES
This is one of my favorite ornaments of this group!  How cool!

STOCKING ORNAMENT
If you are looking for a classic pdf sewing pattern to download and create an easy Christmas project, this is for you
SLOTH CHRISTMAS ORNAMENTS
How cute are these!
CHRISTMAS HOUSE ORNAMENTS
FELT LLAMAS
Let's give some love to this Llamas!  One representing Latin America <3
FELT BEAR HUGS PLUSH
A great gift for this Christmas; the easy sewing pattern and tutorial for beginners.
FELT OGEE
A fantastic idea!
RIBBON CANDY
Do you have only 5 minutes to make a cool decoration this holiday season?
This is for you
BIRD ORNAMENTS
A beautiful idea from this blog to make and share this easy project.
STAR HANGER
I definitely to keep this sewing project for later!
CHRISTMAS EMOJIS
LOL!
WOOL STARS
Simple and classic is sometimes the best way to go, isn't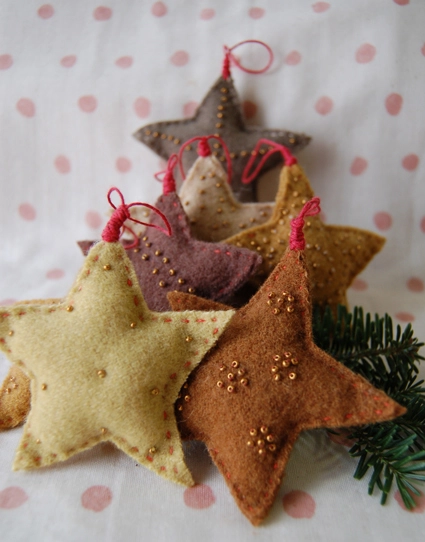 CAT EMBROIDERY HOOP ORNAMENTS
One for the Cat Lovers out there!
Happy Sewing!
FREE PATTERN ALERT: 15+ Free Ornament Patterns