Hello there,
Thank you for visiting On the Cutting Floor today. I am happy to present this compilation of Sewing Terms for Beginners. Enjoy!
15 Sewing Terms for Beginners
If this is your first time on our blog, remember to check our FREE SEWING PATTERNS page.
On that page you will find our collection of free sewing patterns for women, kids, and men.
You can also visit our SEWING TUTORIALS and our SEWING REVIEWS.
We also have an ETSY STORE, where you will find high quality fabrics and unique and modern sewing patterns for women.
PLEASE, CLICK ON THE IMAGES BELOW TO BE DIRECTED TO THE ORIGINAL POST.
Baste
Sewing together loosely using a long stitch length.
Bias
45 degrees to the fabric's warp and weft threads.
Casing
Channel for strings or elastics go into to draw up the fabric.
Dart
A wedge-shaped fold in any given fabric. It's usually done as a shaping technique for the bust and waist area of clothing.
Ease
The amount of room a garment allows the wearer beyond the measurements of their body.
Facing
A shaped piece of fabric that covers part of a garment providing contrast, decoration, or strength.
French Seam
A two step seaming technique to enclose raw edges of the seam allowance.
Grain
The grain refers to the direction in which a fabric is woven. If someone says, 'cut with the grain' it means cut parallel to the threads of the fabric, not perpendicular to it.
Muslin/Toile
A practice or test garment when making clothing, usually made with inexpensive fabrics.
Piping
A trim or embellishment placed at the edges of a project. This is done by inserting a strip of folded fabric into a seam and it gives the project a more compact look.
Placket
A placket is an opening in the upper part of pants or skirts, it could also be found at the neck or cuff of a shirt.
Pleat
A type of fold that's formed when you double a fabric upon itself, meaning, folding it over and folding it back.
Seam Allowance
The area between the fold or the edge of the fabric and the stitching line done to create the seam.
Sloper
The Master Pattern. A sloper is the base pattern used to develop other patterns.
Stitch
A single loop of thread used in sewing, knitting, and embroidery.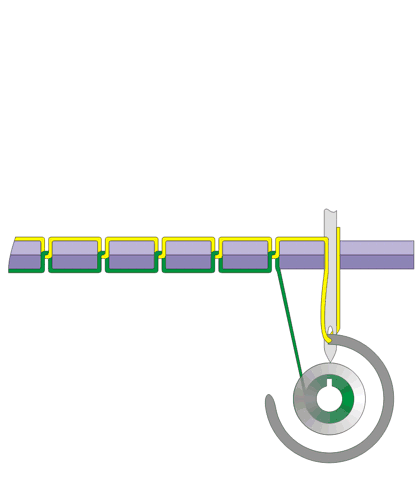 Watch this space for a Beginners Sewing Toolkit, Project Round Up for Beginners, and Sewing Techniques for Beginners. Happy Sewing!